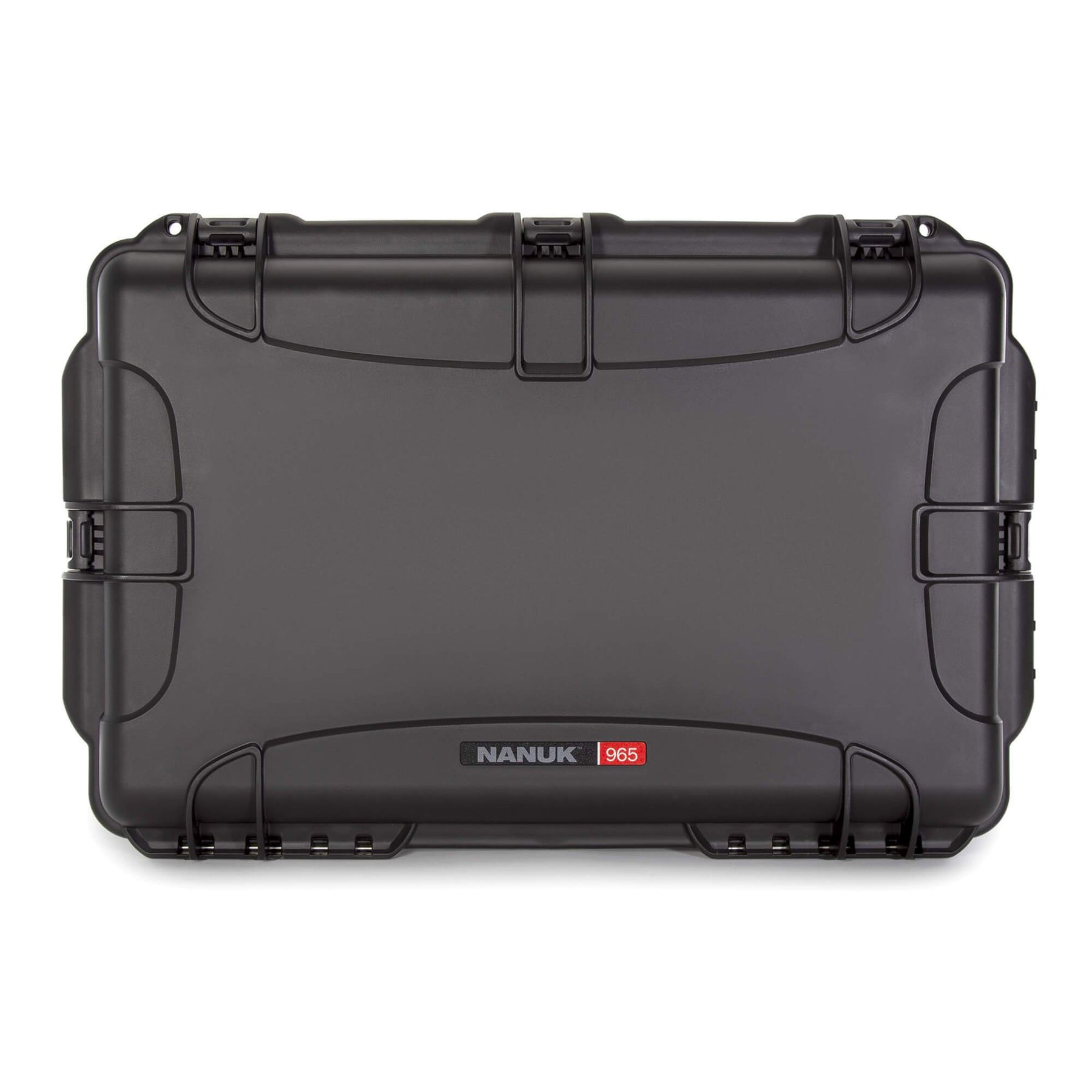 Features / Specs
Part No

NAN-291814-0001

Product Name

Nanuk 965 Waterproof Case

Interior Length

29.0''

Interior Width

18.0''

Interior Height

14.0''

Removable Lid

No

Lid Height

2.10''

Base Height

11.90''

Exterior Length

32.50''

Exterior Width

21.00''

Exterior Height

15.80''

Manufacturing Process

Injection Molded

Interior

Empty

Color

Black

Water Resistance

Waterproof

Hinges

Stainless steel pin hinges

Latches

PowerClaw latches (4)

Ata Rated

Yes

Weight

39.06
Support
Returns
All returns and exchanges are to be made within 10 days of receiving order.
Merchandise returns must be shipped, pre-paid, at the customer's expense. All returned items must be in "as-new" condition, in their original packaging, with all accessories enclosed. The original packing slip must be included and the Return Merchandise Authorization (RMA) number must be visible on the outside of the shipping package. To obtain a RMA number, call our customer service department at 888.515.5255. You must be able to provide the following information: the quantity and item number of the product to be returned, the date of purchase, the invoice number, and the cost of the item. Discrepancies or missing information may result in delays or refusal of your refund. Merchandise returned to Cases By Source, Inc. without a RMA number will not be accepted. The issuance of a RMA number does not guarantee that a credit will be issued. 
If part of a product becomes defective, the entire item must be returned for credit or replacement within 10 days of the invoice date. A packing slip—with the item number(s) and a description of the defect—must be included in the package. At its discretion, Cases by Source, Inc. will repair or replace defective goods. Please Note: Following repair or replacement, defective goods will be returned to customers in the same box in which they were received by Cases By Source, Inc.
All merchandise returns—defective or otherwise—are subject to thorough inspection by a Cases By Source, Inc. representative. Merchandise credits are issued at the company's discretion, based on the aforementioned requirements and instructions. A $25.00 re-boxing fee will be charged for credited products not returned in the original manufacturer's packaging.
All returned items are subject to a 15% restocking fee.* Some exceptions applied
 Refunds will not be issued for custom case orders.
 Refunds exclude shipping charges for returned items that are not defective.
Please allow 2-4 weeks for refunds to be processed and credited to your account. If your order was charged to a credit card, we will need your card number to process the refund (Orders placed online do not provide full disclosure of the card information.)
Warranty
All products come with the manufacturer's warranty against material and manufacturing defects. This warranty specifically excludes misuse, abuse, and normal expected wear and tear. Wheels are not covered by this warranty. 
At our discretion, Cases By Source, Inc. retains the right to repair, replace, or issue credit for products covered by this warranty. Custom product warranties are considered on a case-by-case basis, but must be agreed upon in writing in advance. Products found to be defective more than 30 days after shipment from Cases By Source, Inc. should be returned to us at the customer's expense. Products found to be defective upon receipt (within 30 days of the invoice date) are to be returned by the most cost-effective method at Cases By Source, Inc.'s expense. Before products are returned, a Return Merchandise Authorization (RMA) must be obtained. See "Returns and Exchanges" section for information about obtaining a RMA.
Nanuk 965 Waterproof Case
Part Number: NAN-291814-0001
Interior:

29.0''

x

18.0''

x

14.0''

Exterior:

32.5''

x

21.0''

x

15.8''

Availability: Available
Color
Price:
$345.95
$419.99
$555.95
Need more than 20?Get a commercial quote.
The NANUK 965 is big and strong but surprisingly easy to maneuver. At 29" long and nearly 14" deep, it's built to organize, protect, carry a whole lot of your essentials.
This waterproof hard case is impenetrable and indestructible with a lightweight, tough NK-7 resin shell and five (5) PowerClaw latches. With NANUK's exclusive locking and latching system, your case stays shut and secured until you are ready to open it.
The NANUK 965 hard case will take extreme abuse with the maximum level of protection for all of your professional equipment.
This protective case adds the convenience of a retractable handle and wheels that glide to make it easier to travel with your photo gear, video gear, audio gear, medical or industrial equipment, outdoor gear and much more! Three soft-grip handles make this wheeled case one of the most convenient and comfortable on the market.