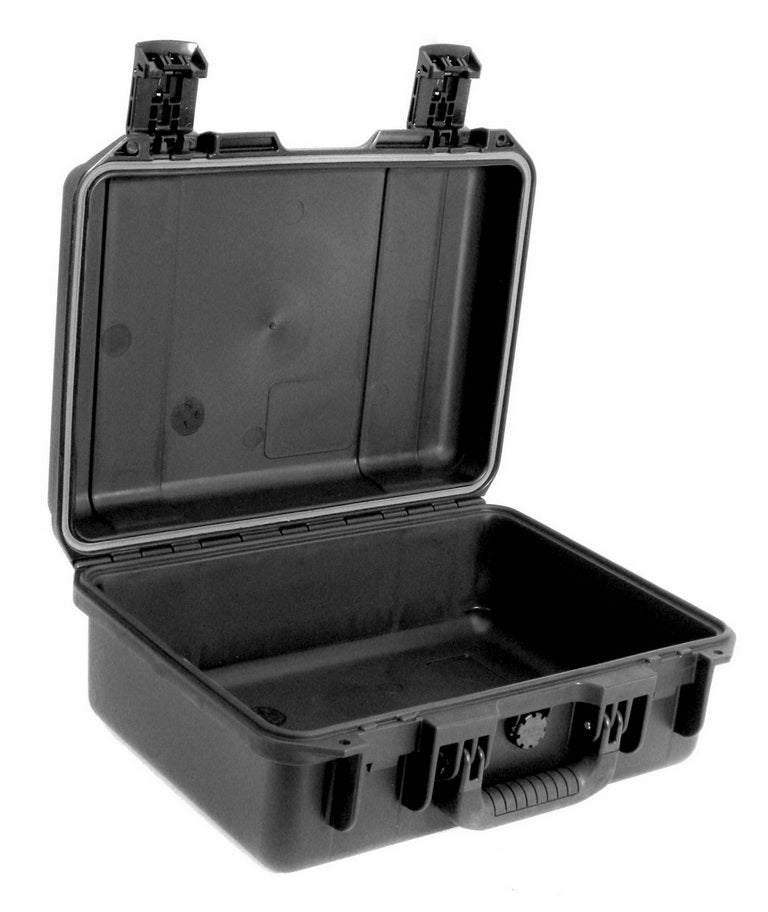 Features / Specs
Part No

iM2200-B-NF

Product Name

Pelican Storm iM2200 Watertight Case

Interior Length

15.0''

Interior Width

10.5''

Interior Height

6.0''

Removable Lid

No

Lid Height

2.00''

Base Height

4.00''

Exterior Length

16.20''

Exterior Width

12.70''

Exterior Height

6.60''

Material

HPX High performance Resin

Manufacturing Process

Injection Molded

Interior

Pick and Pluck foam filled

Color

Black

Water Resistance

Waterproof

Hinges

Stainless steel pin hinges

Handles

Fold down molded rubberized handle

Latches

Press & Pull latches (2)

Wheels

No

Security Options

Padlockable

Ata Rated

Yes

Weight

5.0
Support
Returns
All returns and exchanges are to be made within 10 days of receiving order.
Merchandise returns must be shipped, pre-paid, at the customer's expense. All returned items must be in "as-new" condition, in their original packaging, with all accessories enclosed. The original packing slip must be included and the Return Merchandise Authorization (RMA) number must be visible on the outside of the shipping package. To obtain a RMA number, call our customer service department at 888.515.5255. You must be able to provide the following information: the quantity and item number of the product to be returned, the date of purchase, the invoice number, and the cost of the item. Discrepancies or missing information may result in delays or refusal of your refund. Merchandise returned to Cases By Source, Inc. without a RMA number will not be accepted. The issuance of a RMA number does not guarantee that a credit will be issued. 
If part of a product becomes defective, the entire item must be returned for credit or replacement within 10 days of the invoice date. A packing slip—with the item number(s) and a description of the defect—must be included in the package. At its discretion, Cases by Source, Inc. will repair or replace defective goods. Please Note: Following repair or replacement, defective goods will be returned to customers in the same box in which they were received by Cases By Source, Inc.
All merchandise returns—defective or otherwise—are subject to thorough inspection by a Cases By Source, Inc. representative. Merchandise credits are issued at the company's discretion, based on the aforementioned requirements and instructions. A $25.00 re-boxing fee will be charged for credited products not returned in the original manufacturer's packaging.
All returned items are subject to a 15% restocking fee.* Some exceptions applied
 Refunds will not be issued for custom case orders.
 Refunds exclude shipping charges for returned items that are not defective.
Please allow 2-4 weeks for refunds to be processed and credited to your account. If your order was charged to a credit card, we will need your card number to process the refund (Orders placed online do not provide full disclosure of the card information.)
Warranty
PELICAN LIMITED LIFETIME GUARANTEE OF EXCELLENCE
Pelican Products, Inc. guarantees its products for a lifetime against breakage or defects in workmanship. Pelican injection molded cases are guaranteed to be watertight to a depth of 3.3 feet (1 meter) for 30 minutes (IP 67) if properly closed with undamaged o-ring in place unless otherwise stated. To the extent permitted by law, Pelican's liability is limited to the case and not its contents or foam. All warranty claims of any nature are barred if the container has been altered, damaged or in any way physically changed, or subjected to abuse, misuse, negligence or accident.
Pelican Storm iM2200 Watertight Case
Interior:

15.0''

x

10.5''

x

6.0''

Exterior:

16.2''

x

12.7''

x

6.6''

Availability: Available
Price:
$141.95
$141.95
$157.95
$157.95
$175.27
$175.27
Need more than 20?Get a commercial quote.
Pelican™ Storm Case™
The Pelican™ Storm Case™ has the same legendary DNA as our Pelican Protector Case, with one primary difference: A unique Press and Pull latch that locks automatically, but open with a light touch.
Guaranteed for life, the Pelican Storm case is made in the USA and engineered using the finest components.
Two Press & Pull Latches
Lightweight Strong HPX® Resin
Watertight, crushproof, and dustproof
Vortex™ Valve
Double-layered, Soft-grip Handle
Two Pad lockable Hasps
Powerful Hinges
Guaranteed for life
It all began in 1976 with a hundred feet of twine around a hockey stick handle and a metal weight to serve as a mini anchor. Fashioned by scuba enthusiast Dave Parker in his garage in Torrance, CA, this innovative safety tool was designed to bob on the water's surface to mark locations for divers. Dave dubbed his brainchild the "Pelican Float." He devised this gadget because he knew it had the potential to save lives. He was right.
Eager to expand upon his vision, Dave was soon hard at work designing his next product: a superior first-aid kit for divers. The cases were rugged, durable, and built to keep the contents stored inside safely protected from water and dust. The product was a hit with divers and others who tossed out the first-aid supplies and used the case to protect other valuables.