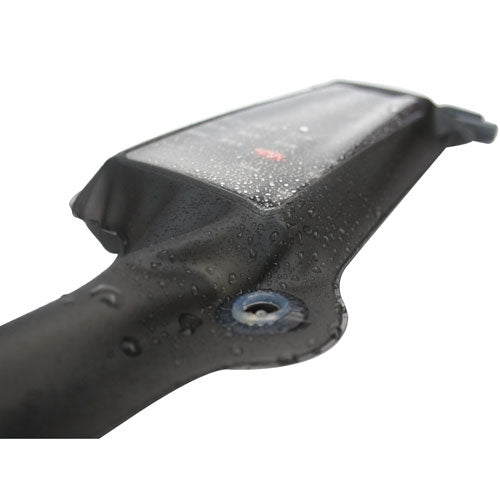 Features / Specs
Part No

AQUA-248

Product Name

Aquapac Large VHF Classic Case

Interior Length

8.7''

Removable Lid

No

Exterior Width

6.50''

Exterior Height

15.50''

Material

Environmentally friendly PU and injection molded plastic

Interior

Empty

Color

Clear

Water Resistance

Waterproof

Handles

Adjustable harness and integral handle

Latches

Aquaclip

Weight

5.0
Support
Returns
All returns and exchanges are to be made within 10 days of receiving order.
Merchandise returns must be shipped, pre-paid, at the customer's expense. All returned items must be in "as-new" condition, in their original packaging, with all accessories enclosed. The original packing slip must be included and the Return Merchandise Authorization (RMA) number must be visible on the outside of the shipping package. To obtain a RMA number, call our customer service department at 888.515.5255. You must be able to provide the following information: the quantity and item number of the product to be returned, the date of purchase, the invoice number, and the cost of the item. Discrepancies or missing information may result in delays or refusal of your refund. Merchandise returned to Cases By Source, Inc. without a RMA number will not be accepted. The issuance of a RMA number does not guarantee that a credit will be issued. 
If part of a product becomes defective, the entire item must be returned for credit or replacement within 10 days of the invoice date. A packing slip—with the item number(s) and a description of the defect—must be included in the package. At its discretion, Cases by Source, Inc. will repair or replace defective goods. Please Note: Following repair or replacement, defective goods will be returned to customers in the same box in which they were received by Cases By Source, Inc.
All merchandise returns—defective or otherwise—are subject to thorough inspection by a Cases By Source, Inc. representative. Merchandise credits are issued at the company's discretion, based on the aforementioned requirements and instructions. A $25.00 re-boxing fee will be charged for credited products not returned in the original manufacturer's packaging.
All returned items are subject to a 15% restocking fee.* Some exceptions applied
 Refunds will not be issued for custom case orders.
 Refunds exclude shipping charges for returned items that are not defective.
Please allow 2-4 weeks for refunds to be processed and credited to your account. If your order was charged to a credit card, we will need your card number to process the refund (Orders placed online do not provide full disclosure of the card information.)
Warranty
All products come with the manufacturer's warranty against material and manufacturing defects. This warranty specifically excludes misuse, abuse, and normal expected wear and tear. Wheels are not covered by this warranty. 
At our discretion, Cases By Source, Inc. retains the right to repair, replace, or issue credit for products covered by this warranty. Custom product warranties are considered on a case-by-case basis, but must be agreed upon in writing in advance. Products found to be defective more than 30 days after shipment from Cases By Source, Inc. should be returned to us at the customer's expense. Products found to be defective upon receipt (within 30 days of the invoice date) are to be returned by the most cost-effective method at Cases By Source, Inc.'s expense. Before products are returned, a Return Merchandise Authorization (RMA) must be obtained. See "Returns and Exchanges" section for information about obtaining a RMA.
Aquapac Large VHF Classic Case
Exterior:

0''

x

6.5''

x

15.5''

Availability: Available
Need more than 20?Get a commercial quote.
AQUA-248 Aquapac Large VHF Classic Case is the most trusted waterproof VHF case on the market. Essential for regular handheld VHF radios when paddling and prudent additional line of defense even for waterproof models. When you absolutely have to keep communications open you can trust in these lifesavers. This waterproof VHF case features:
Clear windows on both sides so they fit both L- and R- handed radios.
You can use your radio normally through the case, it doesn't interfere with sound or radio signals
Also protects from dust, dirt and sand
Like most Aquapac cases it'll float if you drop it in water.
The seasms are high-frequency welded to form a super-strong bond.
The Aquaclip(a patented, ultra-secure, rustproof, injection-molded plastic seal) opens and closes with a simple twist of two levers, and everything stays in one piece even when open
Comes with adjustable lanyard/neckcord
Color: Cool Grey with Acid Green Lanyard
Estimated Maximum Radio Length that will fit in the case: 15" total length, including handset and antenna.
Dimensions of case (flat, closed): W 6.5" x H 15.5"
All Aquapacs come with a "Full 5-Year Warranty"