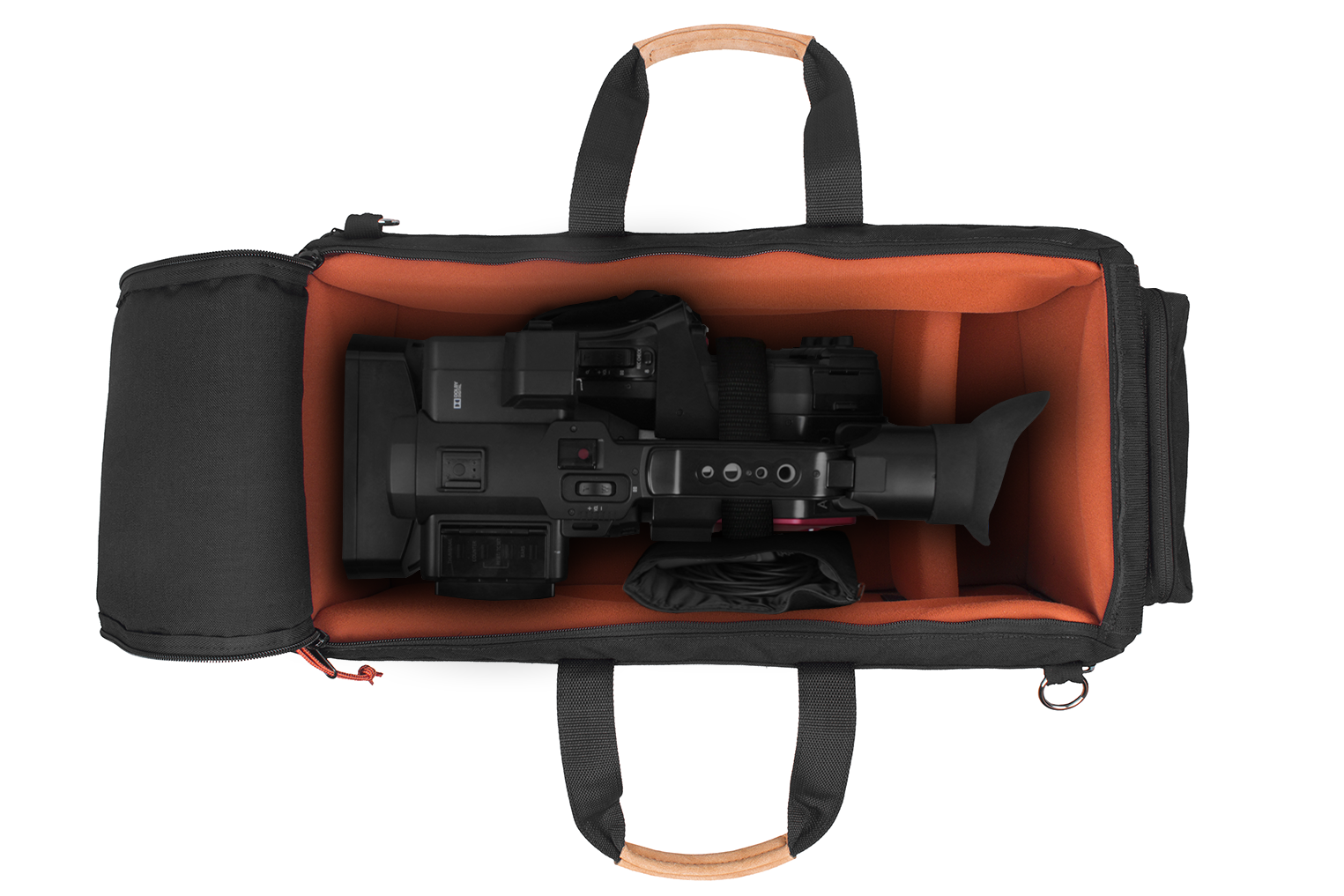 Features / Specs
Part No

PB-CAR-DVX200

Product Name

Portabrace Carrying Case for Panasonic AG-DVX200 Camera

Interior Length

23.5''

Interior Width

10.2''

Interior Height

9.9''

Removable Lid

No

Exterior Length

23.50''

Exterior Width

10.20''

Exterior Height

9.90''

Material

1000 Denier Cordura Nylon

Manufacturing Process

Fabricated

Interior

Padded Interior

Color

Black

Water Resistance

Weather Resistant

Hinges

Fabric

Handles

Suede Carry Handle

Latches

Zipper

Wheels

No

Security Options

No

Weight

5.0

Portabrace
true
Support
Returns
All returns and exchanges are to be made within 10 days of purchase.
Merchandise returns must be shipped, pre-paid, at the customer's expense. All returned items must be in "as-new" condition, in their original packaging, with all accessories enclosed. The original packing slip must be included and the Return Merchandise Authorization (RMA) number must be visible on the outside of the shipping package. To obtain a RMA number, call our customer service department at 888.515.5255. You must be able to provide the following information: the quantity and item number of the product to be returned, the date of purchase, the invoice number, and the cost of the item. Discrepancies or missing information may result in delays or refusal of your refund. Merchandise returned to Cases By Source, Inc. without a RMA number will not be accepted. The issuance of a RMA number does not guarantee that a credit will be issued.
If part of a product becomes defective, the entire item must be returned for credit or replacement within 10 days of the invoice date. A packing slip—with the item number(s) and a description of the defect—must be included in the package. At its discretion, Cases by Source, Inc. will repair or replace defective goods. Please Note: Following repair or replacement, defective goods will be returned to customers in the same box in which they were received by Cases By Source, Inc.
All merchandise returns—defective or otherwise—are subject to thorough inspection by a Cases By Source, Inc. representative. Merchandise credits are issued at the company's discretion, based on the aforementioned requirements and instructions. A $25.00 re-boxing fee will be charged for credited products not returned in the original manufacturer's packaging.
All returned Portabrace items are subject to a 20% restocking fee.
Refunds will not be issued for custom case orders.
Refunds exclude shipping charges for returned items that are not defective.
Please allow 2-4 weeks for refunds to be processed and credited to your account. If your order was charged to a credit card, we will need your card number to process the refund (Orders placed online do not provide full disclosure of the card information.)
Warranty
All products come with the manufacturer's warranty against material and manufacturing defects. This warranty specifically excludes misuse, abuse, and normal expected wear and tear. Wheels are not covered by this warranty. 
At our discretion, Cases By Source, Inc. retains the right to repair, replace, or issue credit for products covered by this warranty. Custom product warranties are considered on a case-by-case basis, but must be agreed upon in writing in advance. Products found to be defective more than 30 days after shipment from Cases By Source, Inc. should be returned to us at the customer's expense. Products found to be defective upon receipt (within 30 days of the invoice date) are to be returned by the most cost-effective method at Cases By Source, Inc.'s expense. Before products are returned, a Return Merchandise Authorization (RMA) must be obtained. See "Returns and Exchanges" section for information about obtaining a RMA.
Portabrace Carrying Case for Panasonic AG-DVX200 Camera
Part Number: PB-CAR-DVX200
Interior:

23.5''

x

10.2''

x

9.9''

Exterior:

23.5''

x

10.2''

x

9.9''

Availability: Lead time 3-4 weeks
Need more than 20?Get a commercial quote.
The CAR-DVX200 camera case has an ultra-light design, featuring dual-rigidity foam for maximum equipment protection. It is designed to fit the Panasonic DVX200up to 21.75" long. This rugged case is constructed using long-life materials including 1000-denier Cordura nylon and solid steel clip rings. Reversed zippers and a slip-not anti-skid waterproof bottom panel are used for increased water-resistancy and durability.
Arrive at your venue in Shoot Ready format knowing everything you need is packed, organized and accessible. The 9" interior height allows for shoot-ready equipment configurations and the easy-open, quick-draw design means you'll never miss the shot. There are front and back slip pockets for carrying SD cards, documents, cords, and white balance cards. The 2 side pockets are perfect for batteries, extra flashes, and cords.
The interior of the case is made using a copper-colored Veltex that contrasts against camera and lenses for clear visibility of the case contents. There's also a Carabiner with flashlight for improved visibility when shooting in low-light environments. Completely customize your interior setup using the interior components, including 1 hanging pocket, 1 padded divider pouch, camera tie-down, and divider camera "cradle".
Comfortable genuine suede shoulder strap and handles are included.

Includes:
- 1x CARA-BRNZ Carabiner & Flashlight
1x CS-B9 Cam-Corder Stuff Sack
1x CS-CR-CINCH Cam-Corder Cinch
1x CS-CR-U Cam-Corder Universal Cradle
1x DVO-HP Hanging Pocket
1x HB-10 Suede Shoulder Strap
1x WBC White Balance Card
Looking for a Custom Solution?
Using your needs and specifications as a roadmap, we can design, engineer, and manufacture a custom case that matches your vision. Start the conversation with a free consultation!
Custom Solutions
Resources
Government Contracts
Contract ID # GS-02F-0215P
Federal ID # 22-3749518
DUNS # 051999725
Cage Code # 3AYH1
About Cases By Source
Use left/right arrows to navigate the slideshow or swipe left/right if using a mobile device